To post a job on Career Poster, please visit https://careerposter.co.uk/post-a-job/.
Complete the following fields and use the tips provided for optimal results when advertising on job boards.

Job Title
Choosing the right job title is one of the most important parts of creating a job advertisement. Use a job title that is commonly used for your role so candidates can find your job easily when searching the job sites.
Also, try not to stuff keywords in your job title.
For example:
Senior Customer Service Account Manager
Senior Account Manager
More specific job titles will rank higher in the search results as they want to serve candidates with more relevant jobs for their searches.
Location
For the best results, the job boards recommend using a Post Code. On average, they see a 30% increase on applications with jobs that advertise using a postcode over a city name.
This is becuase a feature is available on most sites that let candidates see their commute time from their home address and prioritise jobs nearest to them.
Salary
Having a job salary displayed increases your view-to-application conversions and it increases your job views. Candidates may use a salary filter in their searches which would exclude your vacancy from their results if you don't display a salary.
Tip:
Use a salary range to collect a large number of job applications with a range of experiences and skills (£20k-£40k).
Use an exact salary to find candidates more suited to your job role. Fewer applications however less shortlisting work.
Other Fields
Complete contract type, hours, sector and select whether the job is remote. 
Job Description
A good job description should be between 300-600 words long. Make sure to include the following:
A brief description of the company, industry and the role you're hiring for.
A bullet point list of the role's duties and responsibilities.
A bullet point list of the benefits and company perks.
Include hours, location, salary and keywords in your description.
You can use our job advert template that has been created by recruiters with over 10 years' experience in advertising roles online. The template has been optimised for the job boards and is free to download. 
We also have over 300 job description examples you can view, copy and download.

CV Match Tags
If you want to use the CV match feature, complete up to 10 tags here.
These are keywords that we scan your CV's for and provide a percentage match in your portal.
For example:
Web Developer, PHP, HTML, CSS, JS, WordPress.
If a candidate has all these keywords in their CV, it will be a 100% match. Half would be 50% etc.
Company Details
Enter your company name and a short tag line about the company. Optionally you can enter the company Twitter page if you share jobs on Twitter.
The logo is square shape so that it fits with social media, Google jobs and some job boards.
We recommend 400×400 px for the logo and 1920×500 px for the banner.
(Don't worry if it does not fit, we'll do our best to correct the size before your job is live.)
You can keep your company name anonymous by simply entering "An IT company" or whichever industry you work in. It's best the candidates at least know the industry.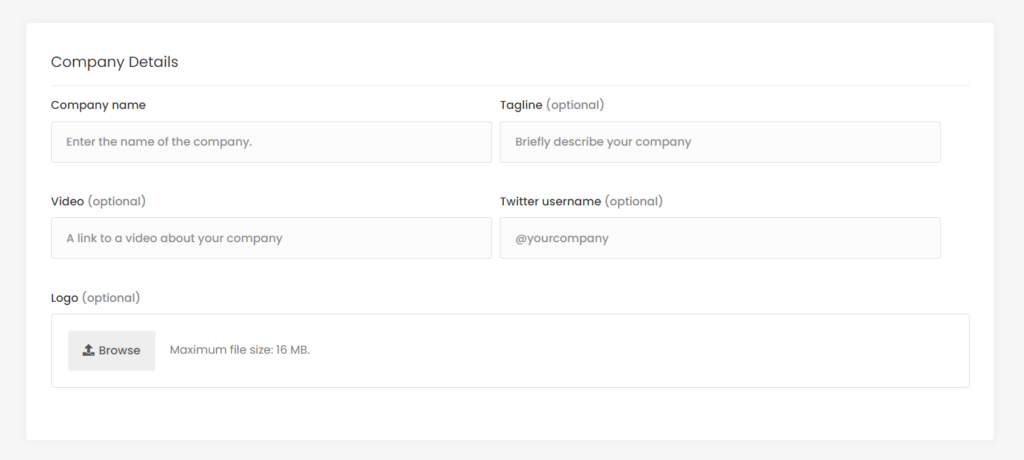 Application Method
You have the following options:
Send CV's directly to your email address.
Send CV's to your own URL.
Send CV's to the free Career Poster job portal.