Best Automotive Job Boards in the UK
Here are the top 10 UK job boards that are popular for posting Automotive job vacancies:
Please note that job board popularity and effectiveness may change over time, so it's always a good idea to check the latest statistics and reviews before deciding which job boards to use for your specific recruitment needs.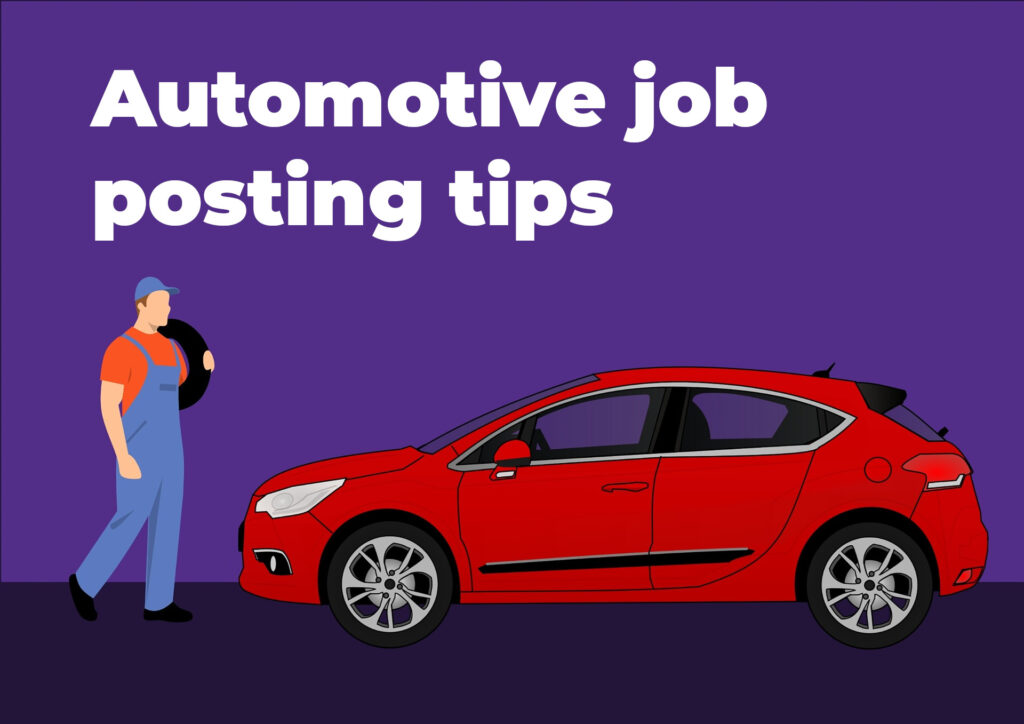 Tips to posting an Automotive job online
When posting an automotive job online, it's essential to make the most of your job listing to attract the right candidates. Here are some tips to help you create an effective online job posting for automotive positions:
Clear and Descriptive Job Title: Use a concise and accurate job title that clearly reflects the role's nature. For example, "Automotive Technician," "Automotive Sales Manager," or "Automotive Design Engineer."

Detailed Job Description: Provide a comprehensive job description outlining the responsibilities, tasks, and duties associated with the position. Mention any specific skills, qualifications, or certifications required.

Highlight Essential Qualifications: Clearly specify the essential qualifications, such as education, experience, technical skills, and certifications needed to perform the job effectively.

Sell Your Company: Briefly highlight your company's unique selling points, such as its reputation, company culture, career growth opportunities, and employee benefits. This can attract candidates to your organization.

Use Keywords: Use relevant keywords throughout the job posting to improve search engine visibility. Job seekers often use specific keywords when searching for positions online.

Salary and Benefits: If possible, include salary details and information about benefits offered. This can pique the interest of candidates and potentially save time by attracting those who are aligned with your compensation package.

Location and Working Hours: Mention the job location and the expected working hours. This information helps candidates assess whether the position is suitable for their commute and lifestyle.

Visuals and Media: Include images, videos, or other media related to the job or your company culture. Visuals can enhance the appeal of the job posting and make it more engaging for candidates.

Application Instructions: Provide clear instructions on how candidates should apply for the position, whether it's through an online application form, email, or another method.

Mobile-Friendly Format: Ensure that the job posting is mobile-friendly, as many candidates search for jobs on their smartphones or tablets.

Use Trusted Job Boards: Post the job on well-known and reputable job boards that cater specifically to the automotive industry or offer a wide range of job categories.

Monitor and Respond: Regularly monitor applications and respond promptly to qualified candidates. A quick response can show that your company values potential employees.
By following these tips, you can create an attractive and informative online job posting that appeals to the right candidates and increases the likelihood of finding the perfect fit for your automotive job opening.
How we can help you advertise your automotive jobs?
Advertise on multiple UK leading job boards and automotive specific job sites with Career Poster from just £195.
We are a leading job advertising agency that helps employers post jobs online and find quality staff for less. 
See our services here – Multiple job boards
Automotive job advert templates
Now that you know which job boards to advertise your automotive jobs on, it's time to create an awsome job advert that attracts the top talent in the automotive industry.
We have created job advert  templates for all types of jobs in this sector including Automotive Electricians, Automotive Sales, Body Shop Managers, Mechanics and much more.
See our Automotive Job Advert Templates for free templates you can copy or download in Microsoft Word.