Create job adverts easily with ChatGPT.
You can use ChatGPT to generate a job advert by following these simple steps:
(1.) Determine the job title, location, and company overview: Before using ChatGPT, you should have a clear idea of the job you are hiring for, the location of the job, and an overview of your company. This will help ChatGPT generate more accurate and relevant content.
(2.) Open a text editor: Open a text editor or a blank document to write your job advert.
(3.)  Begin the conversation with ChatGPT: You can initiate the conversation with ChatGPT by asking a question or providing a prompt such as "Can you help me generate a job advert for a [insert job title] position?".
(4.) Provide the necessary details: Once ChatGPT starts the conversation, provide the necessary details such as the job title, location, and company overview. You can also provide additional information such as key responsibilities, required qualifications, desired qualifications, and skills and competencies.
(5.) Review and edit the content: Once ChatGPT generates the job advert, review the content and edit it as needed. Make sure the job advert is clear, concise, and free of any errors.
(6.) Customize the job advert: Customize the job advert to fit your specific needs and requirements. Add or remove any information as needed.
(7.) Post the job advert: Once you are satisfied with the job advert, you can post it on job boards or your company website.
Remember that ChatGPT is a tool to assist you in generating a job advert, but it is still important to customize the content to fit your specific needs and requirements. Also, make sure to proofread and edit the job advert before posting it to ensure that it is accurate and error-free.
Sign up to ChatGPT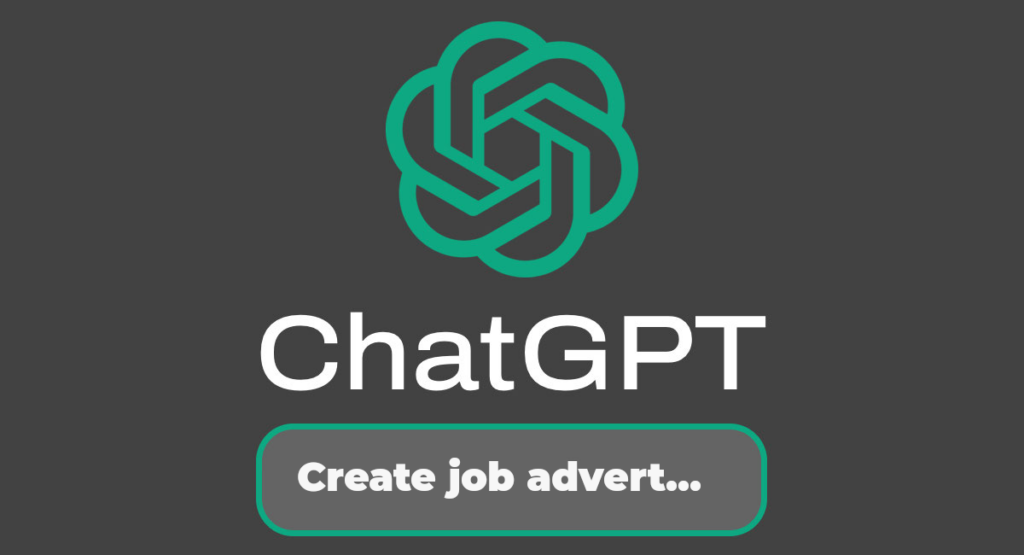 What are the benefits to using ChatGPT to create job adverts?
There are several benefits to using ChatGPT to create job adverts, including:
(1.) Saves time and effort: ChatGPT can quickly generate job adverts in a matter of minutes, saving you time and effort compared to manually writing a job advert from scratch.
(2.) Generates high-quality content: ChatGPT uses natural language processing to generate high-quality content that is free of grammatical errors and is easy to read.
(3.) Increases efficiency: ChatGPT can generate multiple versions of a job advert, allowing you to choose the one that best fits your needs. This can increase efficiency and streamline the hiring process.
(4.) Improves SEO: ChatGPT can help improve the search engine optimization (SEO) of your job advert by including relevant keywords and phrases that can help your job advert appear higher in search engine results.
(5.) Enhances candidate experience: A well-written job advert can enhance the candidate experience by clearly outlining the job responsibilities, qualifications, and company culture. This can help attract and retain top talent.
(6.) Reduces bias: ChatGPT can help reduce bias in job adverts by using neutral language and avoiding gendered language or other language that may discourage certain groups from applying.
Overall, using ChatGPT to create job adverts can save time, improve the quality of the job advert, and enhance the candidate experience while reducing bias and improving SEO.
Using AI to create job adverts templates
There are many AI tools that you can use to create job adverts or to generate and improve your job descriptions. We have created a full tutorial and provided resources to the best AI tools online to help your job advertisement attract the best talent for your job vacancy.
See: How to use AI to create a job advert
If you want to copy a job advert template that has already been created by asking the right questions, we have a library of over 300 job description templates for you to download and edit or simply copy and use for your job advertising requirements.
See: Job Description Templates
If you want a generic job advert template that was created by a professional recruitment consultant with over 10 years' experience in posting jobs online we have created a template that can be used for any job role in any location. It's a free (no sign up needed) MS Word download template that comes with tips and tricks to create a compelling job advert.
See: Job Advert Template
Still need help with your job advert?
We're an advertising agency that works with the UK's largest hiring platforms such as Total Jobs, Reed, Monster & LinkedIn.
We can help you create a job advert that not only increases your application rate but attracts top talent. We then advertise it across multiple job boards for a fraction of the price and provide free recruitment software to help you manage your applications.
Call us on 0161 327 0117 and speak to a job advert specialist today.
Our Pricing: Job Advertising